First aid kits are an essential bit of kit that every Aussie home should have. Whether it be a basic first aid kit or a package that does everything except performing surgery, first aid kits can attend to minor wounds or potentially even save a life, depending on the kit and the circumstances. This article is going to serve as a guide on first aid kits, including what to look for when buying a first aid kit, the different types of first aid kits available in Australia and more.
Why Should You Have a First Aid Kit?
First aid kits can be handy for both humans and pets when injuries occur in the home, while out and about or in the workplace. In an ideal world, every business, vehicle and household in Australia would have a first aid kit of some description available.
As mentioned in the introduction, first aid kits can be used for treating something as simple as a minor cut or insect sting or even save a life, as in the case of applying a tourniquet for major bleeding or a poisonous bite from a spider or a snake.
Rather than having to rush out to the local store or pharmacy to buy some supplies when an incident occurs, having a first aid kit available likely already contains everything you need for immediate treatment.

What Should You Look For When Buying a First Aid Kit?
Let's now take a look at some things to consider when buying a first aid kit and what you may want the kit to contain.
One factor that's going to come into consideration is the price of a first aid kit. The second will be where the first aid kit is going to be located and what it most likely will be used for. If you're on a budget and you only need a basic kit for the home or car, chances are you'll buy a relatively cheap first aid kit. If you need one for your place of business where accidents are more likely to occur, you might want a kit that's a little more robust than the home variety. If you plan to take a kit on your travels, something small and compact might be best. If you're often out exploring the countryside, then a kit that contains the necessities to treat things like a snake bite or a broken leg will be essential.
When it comes to the price, try not to skimp if you don't have to, as it's always better to have too much equipment than not enough.
You might want to consider owning more than one first aid kit too, keeping one in the home and the other permanently in the family car.
Let's now list some items you would find in a typical first aid kit:
Adhesive tape
Bandages
Gauze
Band-Aids
An elastic bandage
Antiseptic wipes
Pain killers such a paracetamol and ibuprofen
A splint
Scissors and tweezers
A thermometer
A torch and spare batteries
An emergency blanket
A tourniquet
Alcohol, disinfectant and saline solution
A first aid manual and emergency phone numbers
And more…
The above kit is a fairly comprehensive first aid kit. You may purchase a kit that contains more items than those mentioned on the list or less. It's up to you and what you believe you may need and what you can afford. Keep in mind, that you can always add extra items to your kit over time.
Let's now look at some typical first aid kits every day Aussies might use.
Snake Bite First Aid Kit
If you enjoy exploring wilderness areas, love going camping or generally just enjoy the great outdoors, in a country riddled with some of the world's most venomous snakes, you'll want to have a first aid kit that's been designed specifically for treating snake bite victims, whether it's yourself or someone else.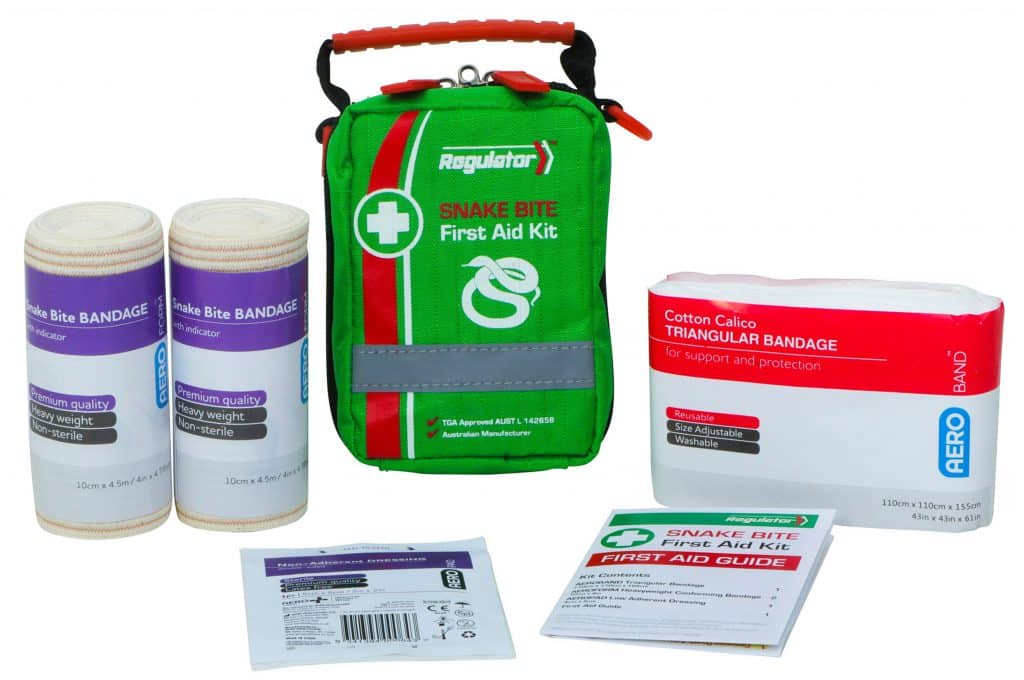 Let's look at what a typical snake bite first aid kit should contain:
Indicator compression bandages
A thermal blanket
Dressing
A marker pen
Nitrile gloves
Tourniquet
Splint
A snake bite treatment guide
A First Aid Kit for the Car
The car might contain a combination first aid kit designed to treat common injuries as well as snake or spider bites. You will likely want an all-purpose type of kit for a vehicle, as you and the occupants could end up in a variety of situations.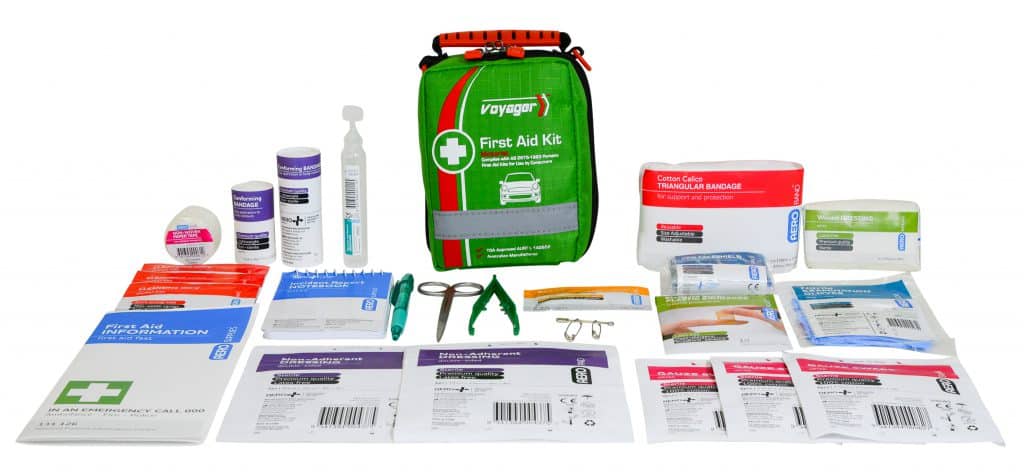 In addition to everything you need to treat venomous bites, a car kit should contain:
Bandages and wound dressers
Plastic dressing strips
Band-Aids
Adhesive tape
Scissors and tweezers and safety pins
Gauze swabs
Nitrile gloves
Saline solution
First aid manual
You might also want to consider a vehicle breakdown safety kit along with a vehicle first aid kit.
Home and Personal First Aid Kits
Your kit for home or personal use might be incredibly basic, or you might opt for a top-of-the-range first aid kit. The kit might contain a combination of the various lists mentioned in this article and you can always add to a basic kit if that's what you start off with.
At a bare minimum, you'll want your home kit to contain:
Bandages and gauze
Tape
Band-Aids
An elastic bandage
Pain killers such a paracetamol and ibuprofen
Scissors, safety pins and tweezers
A thermometer
Alcohol and disinfectant
Saline solution
A first aid manual
Emergency phone numbers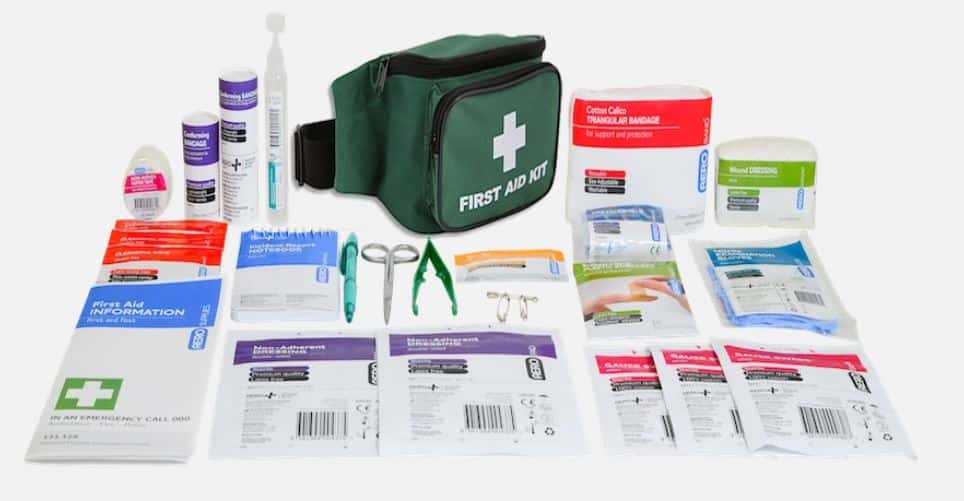 Bumbag First Aid Kits
Bumbag kits are small, personal first aid kits that are generally quite basic.
Expect to find the following in a bumbag kit:
Band-Aids
Bandages and gauze
Scissors and tweezers
Splinter probe and forceps
Tissues
Antiseptic wipes and alcohol swabs
Various wound dressings
And other items…
In Conclusion
Every Australian household and vehicle should ideally have some form of first aid kit in the case of minor injuries or emergency situations. In this country, it's also wise to have at least a rudimentary snake bite first aid kit, especially if you enjoy getting out and about regularly.
Shop now: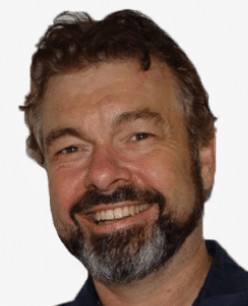 Ashley writes the articles and posts for MyMedici and other websites.  He has a background in digital marketing and provides services through www.websitestrategies.com.au and www.ashleybryan.com.au.  He lives on the Sunshine Coast, QLD with his family.